Regular price
Sale price
£37.99
Unit price
per
Sale
Sold out
- Ships Tomorrow
This tray sprouter is by far our favourite utensil for easily sprouting seeds at home and in our opinion is the best on the market.  Superior to other products we guarantee it for life.* 
Manufactured from premium quality polished 304 stainless steel this modular, robust and simple to use seed sprouting set is hygienic, dishwasher safe, food grade and easy to clean. Its drainage and versatility is excellent, allowing you to grow any sprouting seed, legume or grain as a sprout or even as a microgreen with ease! 
You can purchase the whole set or simply just the sprouting chamber. By purchasing just the sprouting chamber you can add levels to your set, or simply use your own dinner plates to act as the drip tray and blackout lid for a more economical purchase.  
It will out last and out perform the plastic imitators without leaching poisons and BPAs into you food, look better in your kitchen, and wont end up in land-fill.
Diameter: 20cm
Our Best Sprouting Seed Tray Set
1x Lid
An important part of the kit, the lid keeps the sprouting environment humid and dark for optimal seed sprouting conditions! Use a plate for this function if you chose the economical option.
1x Sprouting Seed Chamber
The middle layer made or growing chamber with a strong stainless steel mesh where you rinse, drain and ultimately sprout your seeds. The mesh is fine enough to prevent even the smallest brassica seeds from falling through whilst being large enough for excellent drainage and air movement.
1x Drip/Base Tray
The bottom layer doubles as a convenient means to soak your organic sprouting seeds as well as to catch any drips after rinsing and draining which is necessary twice daily. Again if you went for the economical option another plate will cover this function- just soak your seeds in a glass, bowl or similar container.
Why we love this sprouter
Its super simple to use!
Due to the excellent drainage, surface area and thoughtful construction, no green thumb is required for this sprouting set, just rinse with water twice daily for delicious nutritious sprouts in a matter of days.
Robustly manufactured from durable materials. 
Our sprouting trays have been designed and manufactured to last a life time. The mesh is strong, taught and will not separate from the body under normal use. Each layer of the body is made from a continuous loop of premium grade 304 stainless steel unlike other inferior, mass produced trays which are welded or crimped together.  They will easily out preform and out last both these as well as the ugly plastic sprouters without leaching poisons and BPAs into your food.
Its modular!
With the set you can easily add extra layers by purchasing just the sprouting chamber. This increases production, not the foot print or space needed on your bench to grow superfoods at home. 
It looks great.
The polished stainless steel, correct and stylish proportions and discreetly laser etched artwork make this sprouter an attractive and elegant addition in any kitchen design. 
We guarantee it for life!
The tray seed sprouting set comes with a lifetime guarantee for defects and breakages while under normal use. Whilst the materials are extremely rust and stain resistant this aspect is not covered in the guarantee. Should tea stains appear simply polish out with a toothbrush and toothpaste!   
As always our products and packaging are sent plastic free and in biodegradable packaging!
Diameter 20cm 
Click HERE For Instructions on How To Use A Seed Sprouting Tray Set
For full instructions on maintaining and using this sprouter see the dedicated instruction page above. In the meantime here's a quick overview
1. Clean all components in a dishwasher or with hot soapy water before use.
2. If needed, before sprouting take your organic sprouting seeds and add them to the bottom tray, add room temperature water and leave overnight to soak. Check the specific guidance for each particular sprouting seed on its product page on this website if your unsure if you need to soak or not. 
3.Tip the seeds and water into the sprouting chamber with the fine mesh screen. rinse and wash your seeds well under the tap then shake/drain over your sink to remove as much water as you can. Doing this with the try at a 45 degree angle works best.
4. Cover with thee lid and place the sprouting tray on top of the drip/soak tray if using the set. If using dinner plates from home simply place the sprouting tray on top of a dinner plate and add another plate to function as a lid.
5. Rinse your seeds every 12 hours (or more if its hot). Use the tap water to move the sprouts around if growing sprouts to stop the roots adhering to the mesh. avoid disturbing if growing microgreens.
6. Continue step four and your sprouts will be ready in as little as three to five days!
Sprout Tray Care and Cleaning 
This is as easy to clean as it is to use. Simply wash with hot soapy water or place in the dishwasher. The stainless steel material is very resistant to rust however if any tea staining occurs simply scrub it away with toothbrush and toothpaste which is a nice gentle and food grade polish.
*Guaranteed for two years manufacturing and defects, does not cover rust/ lack of care or inappropriate use.
Share
Shipping

Delivery Costs

Our shipping is broken down into two categories and are dispatched the same or next day as standard.

1. Unlimited "Small" (Garden) Seed Packets:

- Including wooden plant markers and sprouting bags.

- £1.99 - Standard Delivery 2 - 4 business days.

- £4.90 Express Delivery 1 - 3 business days

2. Everything Else - Sprouting and Microgreen Seeds, Growing Equipment, Gifts and Grow Kits:

UK Mainland.

- £3.85 - Standard Delivery (2 - 4 business days) on orders between 0 and 2kg.

- £6.50 - Next Day Courier Service on orders 0 - 4.5kg.

- £8.95 - Next Day Courier Service on orders over 4.5kg.

- Contact us for a quote on orders over 26kgs.

Ireland, Northern Ireland, Isle of Man, Guernsey and Jersey.

- £9.45 - Standard Delivery (2 - 4 business days) on orders between 0 and 2kg.

- £23.50 - Standard Delivery on orders 2kg - 26kg.

- Contact us for a quote on orders over 26kg.

The EU, Switzerland and Rest of World.

Get in touch for equipment sales to the EU and the rest of the world for a competitive shipping quote. Unfortunately we cannot yet post seeds outside the UK.

Delivery and Packaging

All products are packaged plastic free as standard. Your garden seeds are sealed for freshness inside white glassine envelopes which are a water/vapour resistant compostable paper product whilst your Microgreen and Sprouting Seeds arrive in resealable zip lock pouches made from GMO free vegetable starch which are further heat sealed to ensure these great products reach you safely!
Returns Policy

We hope you are loving your purchase however we understand that sometimes things don't go as planned and returns and refunds are necessary. Please refer to the following return and refund policies at growsowgreener.co.uk.

My product is damaged defective or you shipped me the wrong product.

We're sorry about that and understand your frustration! We would love to offer you a refund or a replacement. Please contact us at hi@growsowgreener.co.uk within 30 days of purchase for a full refund or replacement. 

I ordered the wrong product or simply changed my mind.

No worries, we will refund you the full amount (minus the shipping charges) provided the items are returned in new condition and in original packaging. Once received we will issue your refund however you will be responsible for return shipping costs for non defective products.

Please post to:

Grow Sow Greener

RETURNS (order number)

5 Longfields

West Alvington

Devon TQ73QG

UK

Guaranteed to grow promise.

Should you have absolutely any problems issues or difficulties getting your seeds to germinate or problems/queries regarding our grow kits or equipment, please get in touch at hi@growsowgreener.co.uk and we will strive to help you out via email, call or video call.

All our seeds and products have been tested here by us however if we still cant help you get growing we will offer a free replacement.

Unfortunately, we cannot accept returns on gift cards.
View full details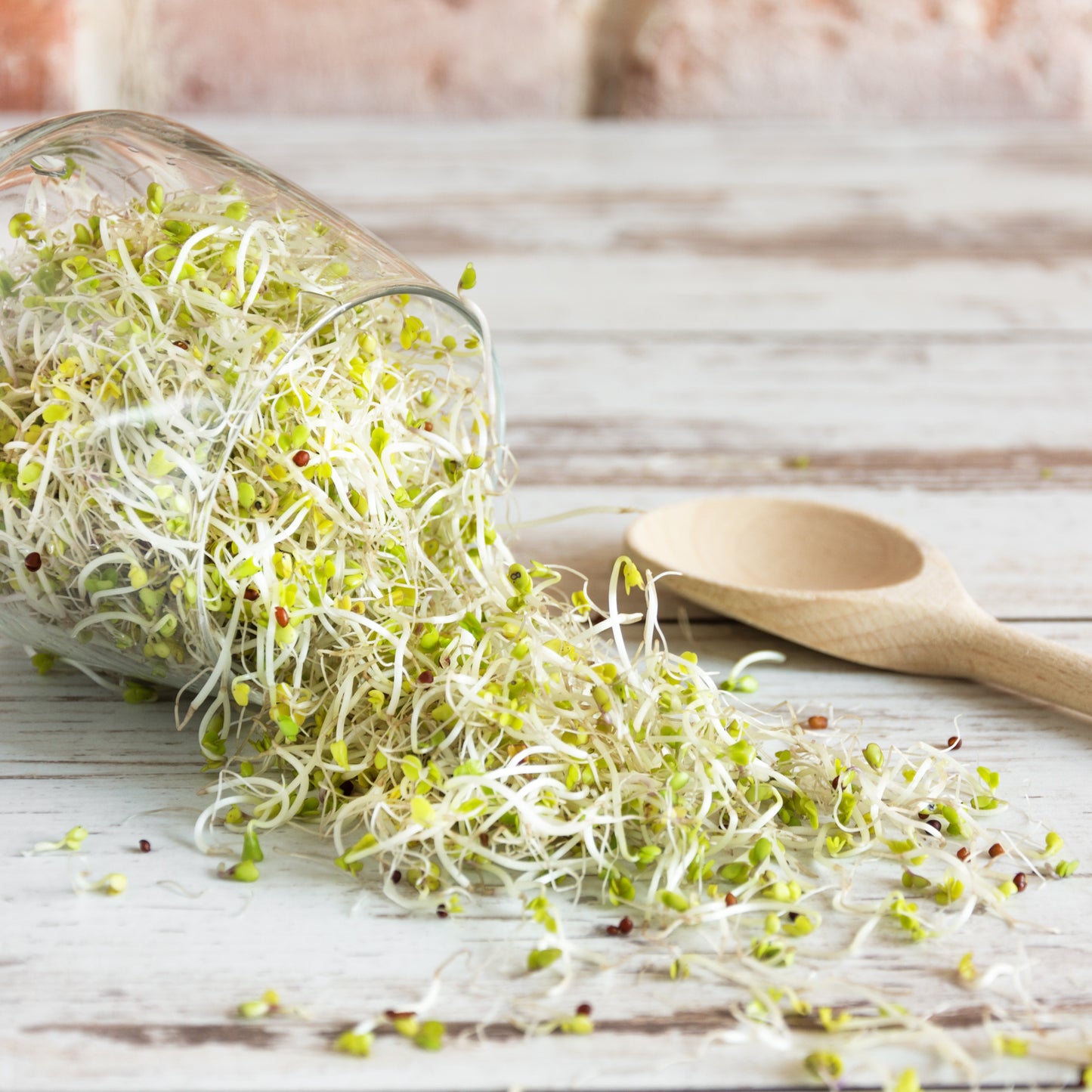 Apologies
It has now arrived-so sorry, but as you requested a review so swiftly I thought it had gone missing
Superb quality
Finally I found the kind of sprouter Ive been looking for! Excellent quality. Highly recommend.
Excellent
Good quality equipment - simple to use and makes it easy to slice off the roots on the underside of the mesh before harvesting. Works much better than sprouting in a jar
Great!
I have recommended this to a number of people on the histamine intolerance facebook page. I hope the stainless steel holds up. So far so good. Other options looked inferior.
Really pleased, neat and productive
Really pleased, now in daily use alternating mixed grains and peas, wonderfully neat and simple sitting on my windowsill, great results